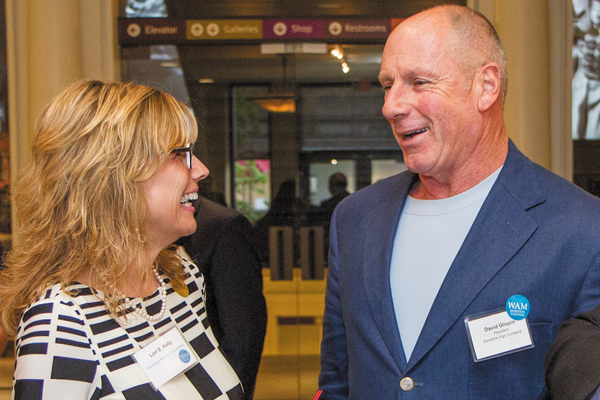 We are proud to be a WAM Business Partner. Museums are important both economically and culturally. They provide a place for individuals in our community to meet, explore, and discuss the past, present, and future, which can influence their view of the world.
K. Michael Robbins, Chairman & CEO, Cornerstone Bank
UMass Memorial Health Care has a deep-seated mission to improve the health and well-being of the people of Central Massachusetts. As health care continues to evolve, we are increasingly looking outside our walls to help address the social determinants that drive health outcomes. These social factors determine community stability and the quality of civic life. We can think of no greater partner in this effort than the Worcester Art Museum and strongly encourage our employees and families to visit and experience all that it has to offer. Through our support of this prized institution, we know we are contributing greatly to the cultural richness of life in our community. And, it turns out, that makes healthier and happier people.
Douglas Brown, President, UMass Memorial Community Hospitals, and Chief Administrative Officer, UMass Memorial Health Care
Niche Hospitality Group is proud to be a Business Partner of WAM. It is a cornerstone of our community and a huge asset to the city of Worcester. WAM brings art, history and culture from around the world to our children and families. At Niche, we believe in working together to make our communities stronger.
Michael Covino, President, Niche Hospitality Group
WinnCompanies has been a champion of the quality of life in Worcester for more than three decades, providing homes for hundreds of residents. We are pleased to partner with the Worcester Art Museum and honor their excellence in presenting the arts while serving as a community gathering place and diverse cultural center.
Michael O'Brien, Executive Vice President, WinnCompanies
The free month of admission for our employees, invitations to events, and discounts are great. Add to that, the visibility Fletcher Tilton gets in front of thousands of people, and you can see why a Business Partner membership fits into our budget every year.
Warner S. Fletcher, Fletcher Tilton, P.C.
My company has been around since 1885 - WAM opened its doors in 1898. I love the history. Our museum is truly a gem. Visit - you will be so pleased!
Susan Coghlin Mailman, President, Coghlin Electrical Contractors, Inc.
An amazing location where networking leads to friendships!
Matthew Kamins, Wings Over Worcester
Those who embrace the entrepreneurial spirit take risks, strive to make things better, and thus create a more vibrant, current, and relevant organization. By becoming a Business Partner, you foster this spirit not only for WAM, but for your organization as well.
John Savickas, President, Interstate Specialty Products, Inc.
Supporting the Higgins collection through sponsorship is something Cole Contracting is especially proud to do. WAM draws tourists and business to our area. It makes good sense for the company and for the community we all share.
James Cole, President, Cole Contracting, Inc.
The Worcester Art Museum is a community resource that engages people of diverse backgrounds with thoughtful exhibits, workshops and events. Fallon Health is proud that our support helps to increase accessibility for all people.
Richard Burke, President & CEO, Fallon Health
Sponsorship allowed us to help provide an exciting assortment of events and programs for families in the local communities we now serve. We are happy to know we are supporting the continuation of a great cultural treasure for the enjoyment of generations to come.
Richard B. Collins, President & CEO, United Bank
It's important to support the communities we serve in a way that enriches the experience of being part of the community for everyone. From a business perspective, WAM has been a great partner and we're thrilled to support them.
Kate McEvoy-Zdonczyk, VP Central/Western MA Markets, Harvard Pilgrim Health Care
As a Business Partner, we are able to support one of the finest cultural institutions in Central Massachusetts while at the same time gain some valuable positive exposure for our company.
Joseph J. Bafaro, Jr., J.J. Bafaro, Inc.
As a company that has its roots in Worcester, we are grateful for the significant contribution WAM makes to the cultural vitality of our community.
Michael Sleeper, President, Imperial Distributors, Inc.
We believe the cultural and educational institutions in the Worcester area enhance the quality of life for employees of our firm and clients; as well as the community in general. The excellence of the WAM, and is location in the heart of the city, makes it a significant contributor to all those things that makes Worcester a great place to live and work!
Greenberg, Rosenblatt, Kull & Bitsoli, P.C.
The Worcester Art Museum is a regional treasure, welcoming visitors from all over the world. As a Business Partner, we are proud to support the initiatives and world class art collections of the museum by helping to build awareness and evangelize its brand throughout our diversified network. The wonderful Partnership benefits are valuable to our firm, our clients, and to our employees.
Deborah Penta, CEO, PENTA Communications, Inc.
Reliant Medical Group is proud to support the Worcester Art Museum. Our community is fortunate to have a resource that promotes cultural enrichment for families and people of all ages. Through its diverse array of events, exhibits, and learning opportunities, WAM brings to Central Massachusetts the opportunity to experience fine art in a fun and accessible way.
Tarek Elsawy, President & CEO, Reliant Medical Group
Since our founding in 1989, Nitsch Engineering has been committed to our goal of "building better communities with you." Partnering with the Worcester Art Museum, which connects communities through shared experiences and ideas, was a natural fit. We are proud to support an institution that is so central to the cultural experience in Worcester!
Lisa Brothers, Chairman and CEO, Nitsch Engineering
Rand-Whitney Container has deep roots in Worcester going back to the 1960's. We have been honored to grow and expand here over the years. Our success is due in large part to our relationship with a vibrant Worcester community that includes cultural experiences such as the Worcester Art Museum. We are thrilled to be a Business Partner with the WAM and look forward to supporting this local treasure for many years to come!
Nicholas Smith, President and CEO, Rand-Whitney Container
A partnership with the Worcester Art Museum is a natural fit for New England Disposal Technologies (NEDT). Like WAM and its other business partners, NEDT strives to enhance the quality of life in the Worcester community and contribute so Worcester can continue to be a great place to live, work, and prosper. WAM is a blessing and NEDT is so proud to be able to supports its efforts.
Michael Robertson, President, New England Disposal Technologies, Inc.
Fidelity Bank and the Worcester Art Museum share a deep commitment to make a positive difference in our community. We appreciate the opportunity to partner with Worcester's own world-class museum, which serves as a center for arts and culture in this community that we both care so deeply about.
Edward F. Manzi Jr., Chairman & CEO, Fidelity Bank
Thomas J. Woods Insurance Agency Inc. is a longtime supporter of the Worcester Art Museum (WAM) because it is such an significant part of our community. We recognize the importance of WAM's mission to connect people, communities, and cultures through the experience of art. Sustaining that mission enriches all of us. We are proud to be a Business Partner and a 70-year member of this wonderful Worcester community!
Jack Woods, CPCU, Thomas J. Woods Insurance Agency Inc.
Join or Renew with a Business Partner Membership
Compare Business Partner Levels
View our Current Business Partners
Read about Sponsorship